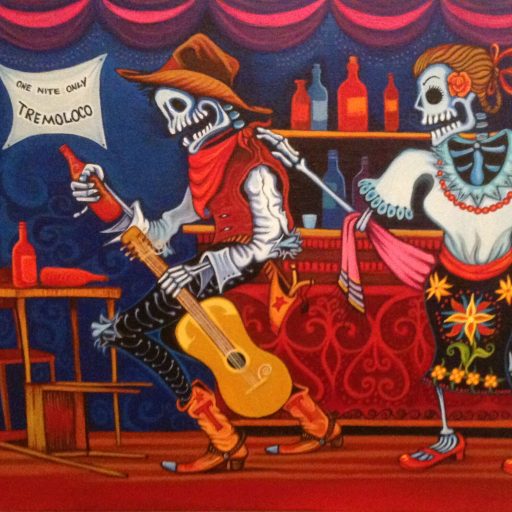 Tremoloco is an eclectic roots band who have been described as Sonoran Gothic Folk, Gulf Coast roots and Mexican Americana.
Blending Mexican music with Roots/Country music is no easy task. It certainly helps that they are well versed in several styles including Folk, Country, Cajun, Honky Tonk, Tex-Mex, Rancheros, Cumbias and Zydeco all the while writing and performing original songs in both English and Spanish.
A stellar line up of musicians occupy Tremoloco recordings (check album info) and this tradition continues with 2013's release "Salsipuedes".
It features the guitar playing of Dave Alvin on the first single "Claudine" and finds them exploring an ever widening musical scope but always remaining grounded in traditional musical forms. Their 4th cd is in the works and scheduled for a February 2017 release.
Their live shows have been well received where they've won fans from the West Coast to the Gulf Coast including Texas, Mississippi and Louisiana, from Mexico to Washington state and up through Canada where they're loved by old and young alike. They've participated in music workshops, hosted roots music TV shows, have done numerous in-store and in-studio radio appearances".
So browse around, you can listen (lyrics are posted) along with photos, watch our videos, read the reviews and follow links to our other sites. Please leave us a message if you like.
We can't thank y'all enough for the kind words and support.
TREMOLOCO
Current line-up:
Tony Zamora – vocals, guitars, basses, guitarron, piano
David Raven – vocals, drums, percussion
Alex Martinez- guitars, lap steel, jarana, requinto jarocho
Bobby Furgo – violin, piano, organ, electric piano
Greg Boaz – upright bass, electric bass, baritone guitar
Aaron Martinez – vocals, jarana, drums, percussion
Jason Lozano – drums, vocals
and to all the incredible players who grace us with their talent, thank you.