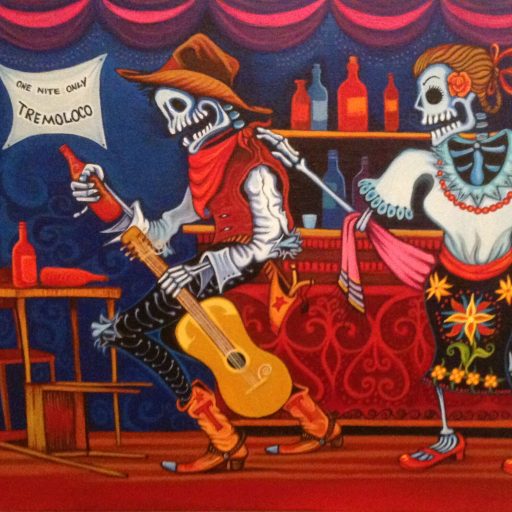 Tremoloco is an eclectic roots band who have been described as Sonoran Gothic Folk, Gulf Coast roots and Mexican Americana. Blending Mexican music with Roots/Country music is no easy task. It certainly helps that they are well versed in several styles including Folk, Country, Honky Tonk, Tex-Mex, Rancheros, Cumbias and Zydeco all the while writing and performing original songs in both English and Spanish.
A stellar line up of musicians occupy all of Tremoloco's recordings and have included David Hidalgo of Los Lobos, Dave Alvin, Cindy Cashdollar, Red Volkaert, Little Willie G., Ian McLagan and War to name a few.
Their 4th release "Deseo" available as of April 2017 continues in this tradition with another stellar version of the band including alumni of Leonard Cohen, Dolly Parton, Freddy fender, Keith Richards, Shelby Lynne, Dave Alvin, Dwight Yoakam and Billy Joe Shaver among many others.
Their live shows have been well received where they've won fans from the West Coast to the Gulf Coast including Texas, Mississippi and Louisiana, from Mexico to Washington state and up through Canada where they're loved by old and young alike. They've participated in music workshops, hosted roots music TV shows, have done numerous in-store and in-studio radio appearances".
So browse around, you can listen (lyrics are posted) along with photos, watch our videos, read the reviews and follow links to our other sites. Please leave us a message if you like.
We can't thank y'all enough for the kind words and support.
TREMOLOCO
Tony Zamora – vocals, guitars, basses, guitarron, piano
David Raven – vocals, drums, percussion
Bobby Furgo – violin, piano, organ, electric piano
Greg Boaz – upright bass, electric bass, baritone guitar
Rick Shea – guitars, pedal steel
Alex Martinez- guitars, lap steel, jarana, requinto jarocho
Aaron Martinez – vocals, jarana, drums, percussion
and to all the incredible players who grace us with their talent, thank you.