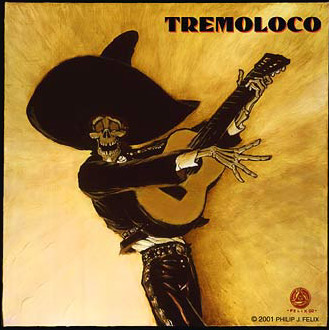 All the world stand, unless all the world confess that in all the world there is no maiden fairer than the Empress of La Mancha, the peerless Dulcinea del Toboso.
---
-Don Quixote, Miguel de Cervantes
"Dulcinea" by TREMOLOCO
Dulcinea was the idealized woman of Don Quixote's imagination.
Referring to someone as your "Dulcinea" implies hopeless devotion.
Love and music are a bit like that, an idealized never-ending journey.
It's never quite as you imagine (usually harder).
But so much more than you could have guessed.
These songs describe this sort of musical and romantic crossing.
From a Georgia rain to a serendipitous passing on a New Orleans streetcar,
From Las Cruces, New Mexico to the Louisiana Gulf Coast, from L.A. to Mexicali.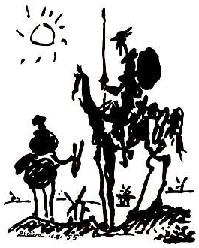 ---
Drinking For Two

Tremoloco

4:09

In A Georgia Rain

Tremoloco

4:02

Mi Novela

3:28

Just A Little While

Tremoloco

4:55

Mexicali

Tremoloco

4:37

Goodbye Miss Lynn

Tremoloco

4:18

Cajun Waltz

Tremoloco

4:23

La Casa Del Mexicano

Tremoloco

4:56

Hocicona

Tremoloco

3:47

Abuela's Lament

Tremoloco

3:36

Doble Del Cuchillo

Tremoloco

1:07
TREMOLOCO:
Tony Zamora – vocals, basses, guitarron, guitar
Cougar Estrada – piano, melodica, drums, percussion
Mike Tovar – cuatro, jarana, guitars
Juan Chacon – acoustic guitar, requinto romantico, vihuela
Johnny "Vatos" Hernandez – drums, vocal
Jason Lozano – drums
GUEST MUSICIANS INCLUDE:
DAVID HIDALGO – (Los Lobos)
GREG LEISZ – (Dave Alvin, K.D. Lang, Tracy Chapman, Bill Frisell)
BRANTLEY KEARNS – (Dave Alvin, Dwight Yoakam)
JOHNNY LEE SCHELL – (Bonnie Raitt, Taj Mahal, John Fogerty)
JENNIFER CONDOS – (Ryan Adams, Don Henley)
STEPHEN BRUTON – (Kris Kristofferson, Alejandro Escovedo)
IAN MCLAGAN – (Small Faces, Faces, Rolling Stones, Bob Dylan)
CINDY CASHDOLLAR – (Asleep At The Wheel, Bob Dylan, Rosie Flores)
RED VOLKAERT – (Merle Haggard, Dale Watson, Brad Paisley)
JOEL GUZMAN – (Tom Russell, Los Super Seven, Ruben Ramos)