Deseo is Tremoloco's latest collection of songs.
Different than the band's last efforts but as in those recordings the approach is at once traditional in style and influence yet still original. It's storytelling, sometimes in a historical context as in the folk song "Tecumseh's War" set during the War of 1812 and "Goodbye Highway 99 (The Story of El Valiente)" set during the Repatriation Act in Depression Era California.
The title means desire and the songs fit. That emotion can be wonderful, "Heavenly Love" or sad, "End of You", or just outright funny. As usual humour plays plays a part never taking themselves too seriously whether it's about growing older, as on "Alberta", "Kissing Disease" suffering loss, "Where Will You Go?" or discovery, "No Bueno".
All of this in an infectious danceable collection including one of the best ballads the band has come up with in the duet "Birmingham" with Houston native Teresa James on vocals.
This time out there is a definite nod to old New Orleans Rock n' Roll which in their opinion is some of the greatest ever recorded. They certainly don't claim to be that cool or innovative but the Gulf Coast is shadowed in this latest offering and it's obvious how much fun they had playing on this recording and we hope you have as much fun listening.
Tremoloco 2017
Tremoloco is an eclectic roots band who have been described as Sonoran Gothic Folk, Gulf Coast roots and Mexican Americana. Blending Mexican music with Roots/Country music is no easy task. It certainly helps that they are well versed in several styles including Folk, Country, Honky Tonk, Tex-Mex, Rancheros, Cumbias and Zydeco all the while writing and performing original songs in both English and Spanish. A stellar line up of musicians occupy all of Tremoloco's recordings and have included David Hidalgo of Los Lobos, Dave Alvin, Cindy Cashdollar, Red Volkaert, Little Willie G., Ian McLagan and War to name a few.
The latest continues in this tradition with another stellar version of the band including alumni of Leonard Cohen, Dolly Parton, Freddy fender, Keith Richards, Shelby Lynne, Dave Alvin, Dwight Yoakam and Billy Joe Shaver among many others.
Tremoloco:
Tony Zamora – vocals, guitars, basses, guitarron, piano
David Raven – vocals, drums, percussion
Bobby Furgo – violin, piano, organ, electric piano
Greg Boaz – upright bass, electric bass, baritone guitar
Alex Martinez- guitars, lap steel, jarana, requinto jarocho
Aaron Martinez – vocals, jarana, drums, percussion
Roberto Rodriquez III – accordion
With special guests:
Brantley Kearns – fiddle
Billy Watts – guitars acoustic/electric
Teresa James – vocal Rick Shea – guitars, pedal steel
Johnny Main – guitar
JR Lozano – drums, percussion, vocals
Mitch Manker – trumpet, trombone, euphonium, fluglehorn, French horn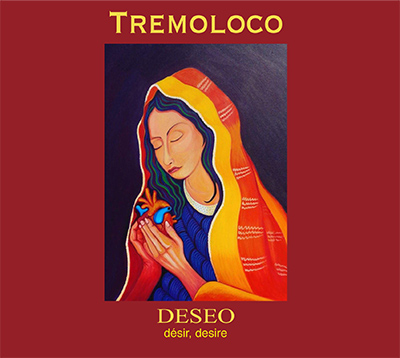 DESEO CD

Available now.
DESEO – CD (within U.S.) $10.99 + $2.00 S&H
DESEO CD (outside U.S.) $10.99 + $3.00 S+H
---
Deseo – Vinyl

Available now.
DESEO – Vinyl (within U.S.) $19.99 + $5.00 S&H
DESEO Vinyl (outside U.S.) $19.99 + $7.00 S+H