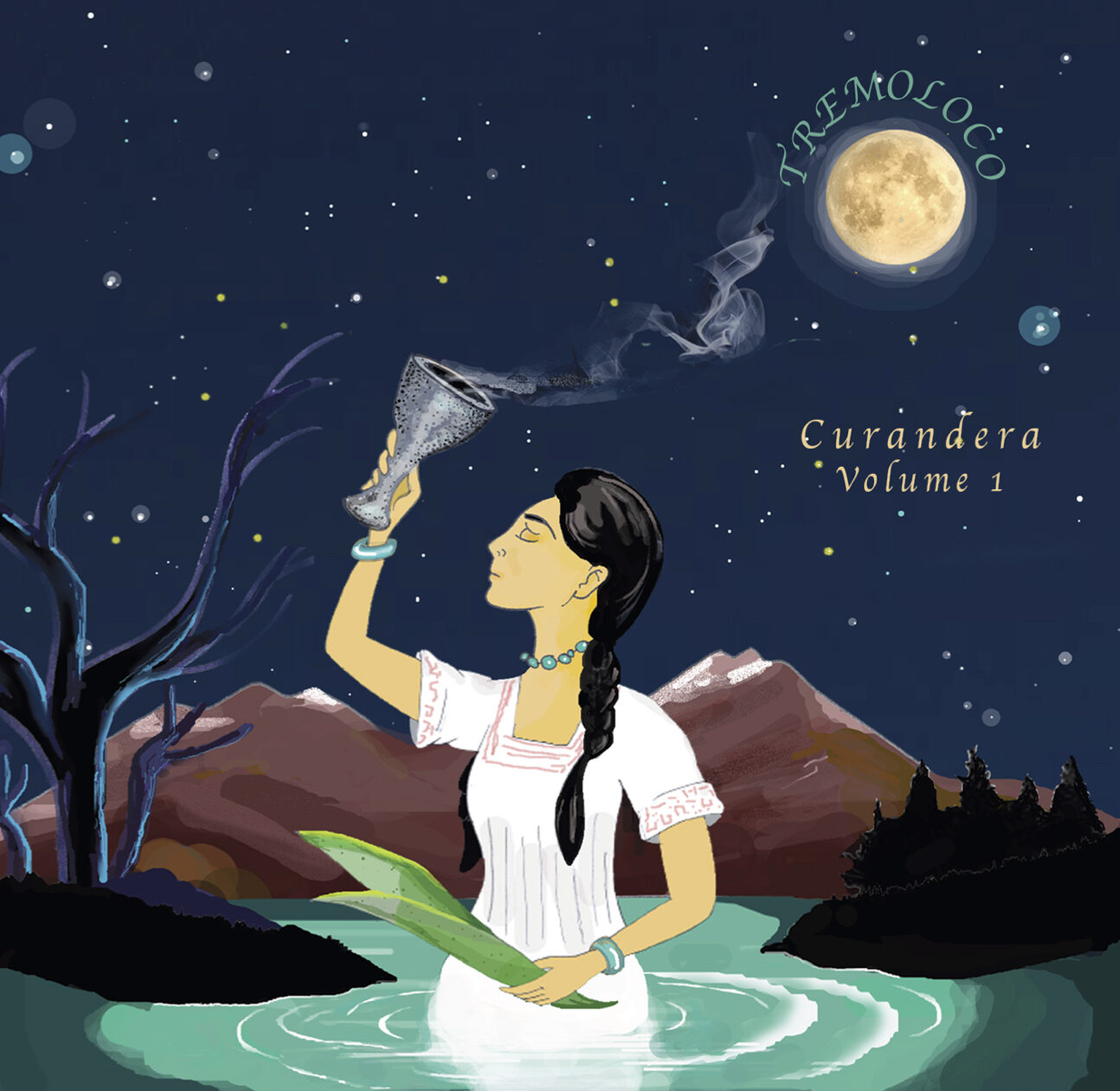 TREMOLOCO'S MUSICAL TIME TRAVEL ARRIVES WITH NEW ALBUM :
CURANDERA VOLUME I
There are certain bands that have a destiny written into their souls. They are brought together by a love of certain musical styles and then destiny takes over and their trajectory takes on a life of its own. That is surely true for Tremoloco. On paper the group that was formed in Los Angeles in 2007 might appear to be a rootsy conglomerate of inspired musicians. But in reality it's more like an aggregation that is guided by the joy of surprise. The musicians on board Tremoloco's new album come from a wide range of areas but when they join together surprises abound and it's like they have entered their own musical time zone. Tony Zamora is in the captain's seat but it's also true that each player is in on the creation of the band's spirit and sound. "Luckily with the players we use, not much could go wrong if I could write songs that fit us.
CURANDERA is the kind of album that Tremoloco was born to create. "Tremoloco has always been a collective of outstanding musicians he says, It has been that way from the beginning. So many players joined in on the project because we played only what we loved and even well-known musicians simply said yes. It seemed like all we had to do was ask, which is why there have been dozens of players on the various albums. It expanded to a who's who of Texas and California roots players. When I reunited with Cougar Estrada and along with long time accordionist Roberto Rodriguez III it gave me a sort of core which comes as close to a steady lineup as we've ever had."
It has been more than three-and-a-half years since the band's last album and as the group weathered the long pandemic without touring there's an excitement for the new songs that let the band gear up for a strong national release June 2nd. Working with Grammy-nominated artist Cougar Estrada, who produced TREMOLOCO's lauded 2008 release DULCINEA, allowed all those years of friendship and experience to explode again. Tony Zamora and the entire band are ready to show their fans and new listeners alike just what a treasure their group is for music lovers of all persuasions.
The range of the new songs from "Mezcal" to "Dixie Overland Highway" to "Mas Que Nada" are a new high point for Tremoloco, one that reveals itself deeper and deeper throughout the album. By the last song, the title cut Curandera, there is such a sweeping power to the new music that longtime fans and new listeners alike are in for a testament from a band at their very peak.
Asked about how CURANDERA feels to him now that it's completed, Zamora says, "This album has a very Tex-Mex Southwest feel to it, with elements of Spaghetti Western movie soundtracks, that dry California vibe, the beaches of Baja Mexico and the humid Texas/Louisiana heat. It all feels like home to us. I can't really describe how it's different from past records but it's definitely who we are today."
The trajectory of a band's career is often unique for each group. For Tremoloco it has been a rollercoaster ride unlike almost all other American bands. In addressing how the band has changed over those years Zamora is very succinct: "We got older." But he quickly adds "Along with that, one finally figures out what you don't know. Does that make the music better? I don't know, (laughs) but I do think it feels both easier and harder."
The musician adds, "We want this one to be heard by as many music lovers as possible. After all these years I feel this one really deserves it."
CURANDERA VOLUME I Coming soon from a borderless American band to a world near yours.
~ -Bill Bentley April 2023-
Curandera Volume I
Produced by Cougar Estrada & Tony Zamora
Tremoloco
Tony Zamora – vocals, basses, guitarrón, electric/acoustic guitars, ukelele, organ, percussion
Cougar Estrada- piano, drums, keyboards, percussion, vocals
Roberto Rodriquez III – accordion, vocals
With:
Special Guests:
Ed Poullard – Cajun fiddle
Pádraic Conroy – penny whistle, low whistle
Billy Watts – electric/acoustic guitars
Bob Bernstein – pedal steel
Willy T Golden – lap steel
Tetsuya "Tex" Nakamura – harmonica, jarana
Jeffrey Paul Ross – electric/acoustic guitars
Richard Bredice – electric/acoustic guitars
Jacob Rodriquez – drums (track 7)
Austin Sessions:
(Tracks 4, 8)
Produced by:
Bradley Kopp – acoustic/electric guitars
Marty Muse – pedal steel
Kevin Hall – drums
Hannah Underwood – vocal
El Paso Sessions :
(Track 11)
Produced and Arranged by:
Mike Hernandez – guitar, guitarrón, vihuela
Odalis Aguirre – vocal
Eduardo García – violins
Hugo Hernandez – trumpets
1. Mezcal
(T. Zamora, J. Main)
2. Dixie Overland Highway
(T. Zamora)
3. Junk Drawer
(T. Zamora)
4. The Man Who Never Cries
(T. Zamora)
5. Más Que Nada
(T. Zamora)
6. One Hand (Beneath a Waning Moon)
(T. Zamora)
7. Sunday Sinners
(T. Zamora, R. Rodriquez III)
8. Monterrey
(T. Zamora)
9. 100 Years (Every Kiss in Between)
(T. Zamora, R. Rodriquez III)
10. Mexicano
(T. Zamora)
11. El Paso
(T. Zamora, R. Rodriquez III)
12. Curandera
(T. Zamora, C. Estrada)
————————————————
SLOW POKE RECORDS
Cover Art:
Christian Navarrete (Houston, Texas)
All songs written by:
T. Zamora
Published by:
PerroFlaco Music (ASCAP)
except:
Tracks 7, 9, 11
T. Zamora, R. Rodriquez III
Track 12
T. Zamora, C. Estrada
Track 1
T. Zamora, J. Main
———————————————————
Recorded By:
Andre Moran
Cedar Creek Studio (Austin, Texas)
Dave Irish
Pot O' Gold Studios (Orange, California)
Richard Bredice
Woodland Bredice Studios (Irvine, California)
Maria Baglien
Studio (Redlands, California)
Josh Lintz
University of Texas (El Paso, Texas)
Jacob Rodriquez
KBP House of Sound (Houston, Texas)
Johnny Lee Schell
Ultratone Studios (Los Angeles, California)
Mixed by:
Tremoloco
Austin Sessions Mixed by:
Bradley Kopp
RedBoot Ranch Recording
(Buda, Texas)
Mastered by
Dave McNair Mastering
(Winston-Salem, NC)
—————————————————
Radio: Bill Wence
Bill Wence Promotions
Publicity: Lance Cowman
LC Media
© 2023 All Rights Reserved
PerroFlaco Music (ASCAP)