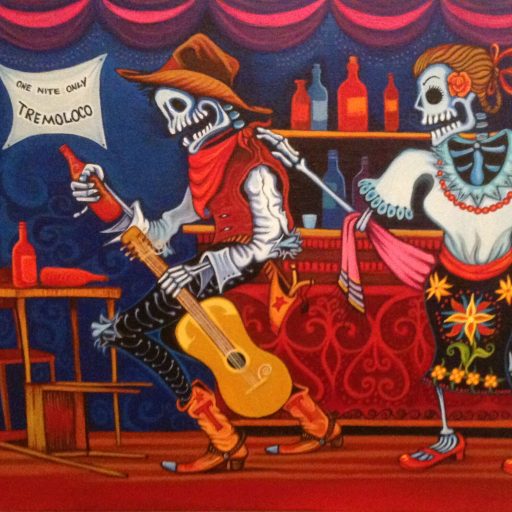 With the release of their 5th recording Curandera Volume I the band finds themselves back at it and working harder than ever .
Tremoloco is an eclectic roots band who have been described as Sonoran Gothic Folk, Gulf Coast roots and Tex-Mexican-Americana.
They sometimes refer to it as simply "CANTINA MUSIC".
"Mexican groove and swing: The Los Angeles/Houston band Tremoloco play a singular blend of Mexican and American roots music, delivering original songs in Spanish and English that draw on a promiscuously diverse array of musical traditions. Encompassing Nashville twang and Louisiana bayou grooves, New Orleans R&B, Delta blues, rancheros, cumbias and Tex-Mex romps.
With Tony Zamora on vocals, basses and guitars, Roberto Rodriguez III on accordion and vocals, Willy T Golden on dobro and lap steel, Cougar Estrada on drums, piano and Jeff Ross on guitars.
Tremoloco features a veteran cast of players with an impressive roster of credits.
— Mercury News, Andrew Gilbert, Correspondent September 2018
So browse around, you can listen (lyrics are posted) along with photos, watch our videos, read the reviews and follow links to our other sites. Please leave us a message if you like.
We can't thank y'all enough for the kind words and support.
TREMOLOCO
Current touring band:
Tony Zamora – vocal, guitars acoustic/elec, basses elec/upright, guitarron, vihuela, ukelele, organ
Roberto Rodriguez – vocals, accordion, bajo sexto, guitar
Cougar Estrada – drums, percussion. piano, vocals
Jeff Ross – guitars
Kevin Belzner – drums
Mike J. Woodford – percussion